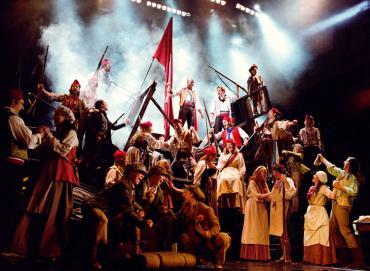 Save on production costs with our show packages: ready-built effects for dozens of popular dramas, musicals and operas. And we can customize a package to meet your production's specific needs — just give us a call!
12 Angry Men
Package includes: Switchblade (2), Case
A Streetcar Named Desire
Package includes: Breakaway Bottles
Accomplice
Package includes: Kitchen Knife (1), Kitchen Knife retractable (2) with special features to allow knife to stay in victim
An Inspector Calls
Package includes: Full stage rain effect, includes heated water, auto fill reservoir, distribution of water over stage, Full stage Mist effect, Steam from the stage as it dries in the sun. Add on features include: anti-drip pipes and advice on rain collection systems for your stage, water recycling options.
Annie Get Your Gun
Package includes: "Old West" revolver, blanked out for stage use, Firing, "Old West" holster with fake cartridges, Lever action repeating rifle, Firing, Knives for throwing act & trick knives for target, Breakaway Whiskey Bottles for shooting, Trigger lock and case FFL package
Assassins
Package includes: Carcano Rifle & scope, Walther PPK type Pistol, Webley Mark IV Pistol, Ivor Johnson Top Break revolver, Derringer, Trigger locks and cases
Cyrano de Bergerac
Package includes: Period-appropriate arms- firing
Frankenstein
Package includes: Jacobs ladder, Laboratory Effects
Jekyll & Hyde
Package includes: Pyrotechnic effects & explosions, lab table fire, fireplace loads, Portable gas bunkers with auto cut-off & gas sensors, Pyro firing system as needed
Julius Caesar
Package includes: Retractable Short-sword
Les Miserables
Package includes: Barricade Rifles, non-firing (6), Breech loading rifle, firing (2), Blank loads (25) metered to your productions needs
Macbeth
Package includes: Rustic Torches with real flames, butane powered (6), Cauldron flames, portable & set installed, Swords & scabbards (2), parrying daggers (3), Stage blood as needed
Man of La Mancha
Package includes: Corkscrew sword, Mirror Knight sword, retractable short sword, regular sword
Miss Saigon
Package includes: M-16 Period appropriate rifles (12), AK-47 Period appropriate rifles (24), Colt 1911 pistol, Firing (2), Trigger lock (2), Makarov replica, non firing (2), Colt 1911 pistol, replica, non firing (6), Colt 1911 holster & belt (7), Makarov holster (1), Slings for Rifles, (36), Lockable shipping & storage cases (9)
Pajama Game
Package includes: Throwing knives (4), Target trick knives (4), Desk trick knives (3)
Phantom of the Opera
Package includes: Le Mat Pistol as used on Broadway, Fires .32 cal blanks, Pyrotechnic explosions & effects
Singin' in the Rain
Package includes: Full stage rain effect, includes heated water, auto fill reservoir, distribution of water over stage
Sunset Boulevard
Package includes: Pistol blanked out for stage use, Chrome snub nose with ivory grips, .38 cal (2), Case & trigger locks (2), Blank ammunition metered to your size of house FFL package
Sweeney Todd
Package includes: Trick Razor (2), special razor (1), blood delivery system, case
Tommy
Package includes: MP-40 Replica (2) non- firing (A Federal Firearms License-Type 3 is required for machine guns on full auto.), Pyro Effects for Pinball machine as needed by the production (no pinball machine)
Tosca
Package includes: Percussion-cap type black powder arms (8)converted to fire .45 ACP blanks, no special license needed, these are not regulated arms, case, locks
West Side Story
Package includes: Jets retractable Knives (2), Sharks retractable Knives (2), Case (2), Saturday Night Special (1), blanks as needed
Who's Afraid of Virginia Woolf?
Package includes: Umbrella Gun, breakaway glass bottles & glasses