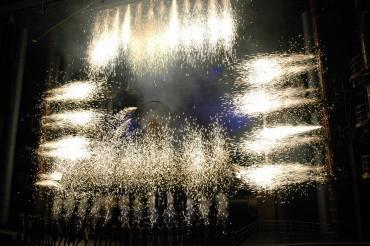 History
Located in Brooklyn, a brief 20 minutes from Manhattan, J&M Special Effects (DBA of Jauchem & Meeh, Inc) incorporated in 1985 and has since become the premiere go-to source for live special effects in the New York area.
How We Work
J&M effects incorporates state of the art equipment, fresh approaches, expertise, and devotion to the most stringent safety guidelines. Their clients span the entertainment industry from theater and performing arts companies; large-scale special events organizers; to producers of film, trade shows, television, industrials, and still photography. Years of experience and expertise in pyrotechnics, smoke, rain, fire, wind, snow, and unique custom effects along with theatrical weapons, blood, and breakaway products has made J&M a leader in design and supply of special effects.
J&M Company Mission
To provide the highest quality special effects design, equipment and service, enabling our clients to realize the maximum potential of their production.
J&M Special Effects
524 Sackett Street
Brooklyn, NY 11217
718-875-0140 tel
718-596-8329 fax
info@jmfx.net