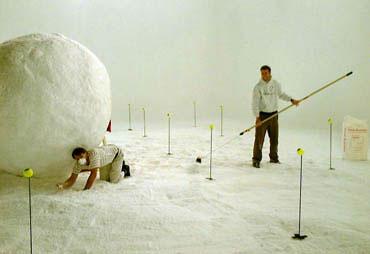 Our Approach
The production arm of J&M prides itself on creating customized effects that realize the vision and message that our clients ask for and have come to expect. Our staff of highly skilled technicians, work to fulfill your special effects needs with professionalism, safety, and cost efficiency in mind. They also get to plan, build, and follow through with amazing effects, which is a wonderful and fun way to spend the day. For customized effects J&M's production department provides:
Research and development
Mock-up and demonstration
Complete custom fabrication
Customized effect systems
Testing and compliance
On site supervision and staffing.
Innovative, Custom Products
J&M's manufacturing arm, lead by Jeremy Chernick, realize what others only imagine. Whether it's a better confetti machine, specialized weapons built from scratch, custom parts, or a pillow that bleeds with the touch of a button the J&M manufacturing team can build it. Fabrication Capabilities include:
Welding (acetylene, MIG, TIG, plasma)
Metal fabrication
Machine shop
Woodworking
Breakaway glass
Pneumatic systems
And anything else you can dream up